BRIDGESTONE S20 EVO 200/55ZR17 REAR
Bridgestone presents the hypersports tyre that continues to evolve.
Battlax Hypersport S20 was the Motarrad test winner in 2012 and 2013 - the highest praise a tyre can receive.  But this hasn't stopped Bridgestone from developing improvements to make Bridgestone's No. 1 Hypersport tyre even better.  Engineers have worked on the construction and compound, with the objective of extending rear tyre wear life and improving handling and cornering grip at high camber angles.
The new Battlax Hypersport S20 EVO achieves these aims thanks to the turned belt package with varied rigidity in the correct areas to help turn in and edge grip. Combined with a new compound featuring Bridgestone's proprietary NanoPro-TechTM technology which works at the molecular structure to improve rolling resistance and wear life.
In-house testing shows that Battlax Hypersport S20 EVO gives a 22% longer rear wear life than its predecessor and noticeable upgrades in cornering stability, rear traction and front grip in both track and street conditions.

● Mainly want to enjoy sports riding such as winding roads, touring and commuting.
● Require wet performance and long life performance in a super sports vehicle.
Handling performance (INDEX)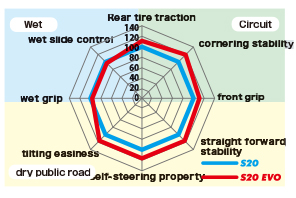 Rear tyre wear life (INDEX)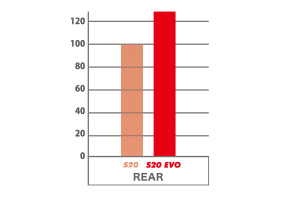 Compared to conventional products, DRY performance on public and circuit roads has been improved greatly. In addition, a longer rear tyre wear life has been achieved!
Special features of the front tyre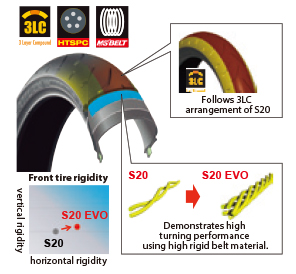 Special features of the rear tyre

Compound
Improved gripping performance has been achieved and wear life has been raised to a higher dimension by optimizing the rubber position to 5LC.
New centre rubber
The newly developed centre rubber draws out the potential power of the materials.  The wear life has been improved while retaining the gripping properties of S20.
"One rank above" sports riding has been achieved by fine tuning of the rigidity of the case and ground contact surface. This improves responsiveness in cornering and stability over previous products.
---
We Also Recommend
---