BRIDGESTONE RS10 COMBO DEAL 120/70ZR17 + 190/55ZR17
RACING STREET RS10 120/70ZR17 (58W) + 190/55ZR17 (75W) COMBO DEAL
Take the latest RS10 for a spin on sinuous roads or G-inducing racetracks and feel the exhilaration that comes from complete confidence in your tyres.
Forged in the heat of MotoGP and adapting for street use, these sports radials have re-engineered designs and new-formula compounds for faster acceleration out of corners, enhanced steering response, greater line-holding precision in corners and confidence inspiring braking stability, particularly on dry surfaces.
Specially formulated compounds are stratregically located for sure grip on low friction surfaces as well as increased durability.
A pedigree created by the world's best riders
The RS10 uses new compound with an optimized tyre shape.
These are Bridgestone's latest premium high-grip radials that achieve excellent dry handling, grip and stability.
The slick-like tread pattern adopts a 3D groove shape to improve tread rigidity.
Technology derived from years of unrelenting study of the world's toughest motorcycle races continues to evolve away from the racetrack.
Recommended for ...
Riders who wish to enjoy riding over a wide range from the racing track to the winding road
Riders who want sporty and high kinetic performance on dry roads
Riders who are seeking higher grade dry performance than S21/ S20EVO
New tread pattern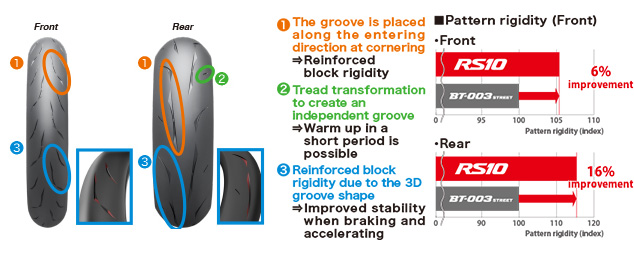 A new compound and optimization of the shape (rear)

Overall performance
---
We Also Recommend
---