BRIDGESTONE RS10R COMBO DEAL 120/70ZR17 + 180/55ZR17
RACING STREET RS10 TYPE-R 120/70ZR17 (58W) + 180/55ZR17 (73W)
Ride like the pros with the new RS10 TYPE-R.   Re-engineered for the track, these sports radials deliver the conficence and exhilaration that you'd expect from tyres made by the official supplier of MotoGP.
Bridgestone's MotoGP Development Team exhaustively looked at every element of the base RS10 tyres, which already deliver superb handling, for enhanced acceleration, cornering, stability and traction on racetracks.
Of the many technologies that have been specially adapted from MotoGP, these tyres include the GP-BELT, dry performance-oriented compound, tread and structure designs optimized for racetrack performance.
The "R" stamp is proof of its racetrack origins
Only the highest technology honed in the world's most demanding races is used
RS10 TYRE-R maintains the aggressive RS10 tread pattern while adopting a "GP-BELT" construction for the rear tyre that draws directly on our experiences in the world's most demanding motorcycle races.
This improves sports riding performance still further, offering not only better grip, cornering performance and high-speed stability, but also giving an overwhelming feel of acceleration when driving out of corners.
Delivers the high-level racetrack riding to be expected from the Type-R logo.

Recommended for ...
Riders who mainly enjoy riding at the track
Riders who wish to improve their existing lap record
Riders who can properly adjust the vehicle setting and temperature/air pressure of the tyre
Technology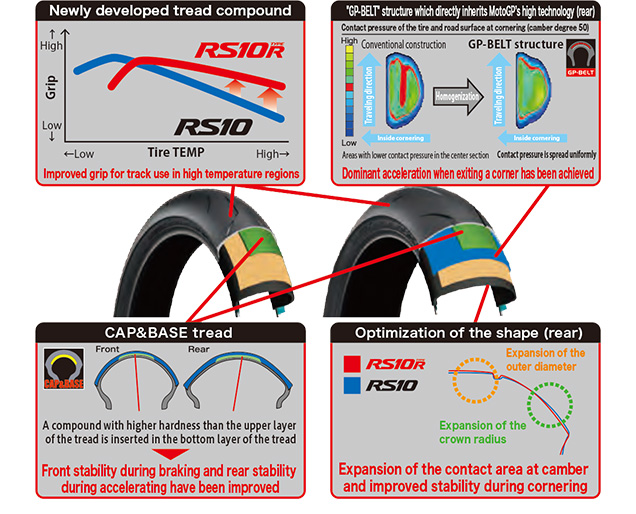 Overall performance

---
We Also Recommend
---