BRIDGESTONE S21 COMBO DEAL 120/70ZR17 + 160/60ZR17
HYPERSPORT S21 COMBO DEAL 120/70-17 (58W) + 160/60-17 (69W)
Your favourite corner will look completely different
The S20 EVO loved by so many riders has evolved again
Due to its superior agility, the S21's ease of handling and the contact feel when cornering surpass even that of the S20 EVO
The rear tyre was developed with Bridgestone's new ULTIMAT EYETM technology, while the new compound succeeds in generating better traction and while improving abrasion resistance for longer life
This marks the birth of a new premium sports radial, one that brings out the best in machine performance in pursuit of the joy of riding
The Thrill of riding in any conditions
S21 is an awesome mix of the proven wet technology of S20EVO and radical new features that take dry performance to a whole new level
Extreme cornering
The superior stability of S21 allows higher entering speeds, a sharper line and faster exit – giving you a feeling of confidence and achievement through corners
High mileage
You don't have to trade life span for top handling performance. S21 clocks up to 36% higher mileage than its predecessor
No compromise on safety
Bridgestone's advanced tread pattern and compound technologies give you all the reassurance you need in the wet
FEATURES
Advances in compound development at the molecular level upgrade adhesion and grip for faster cornering and higher confidence
Front tyre: the smaller crown profile gives a longer contact patch and better pressure distribution for improved handling and precision
Rear tyre: the larger crown profile together with optimized belt construction and groove positioning upgrades rear feeling and increases cornering stability
3-layer compound (front) and 5-layer compound (rear) plus high-stiffness bead filers give optimum damping and stability
Pattern with 3D groove ends, optimized groove layout and almost-slick shoulders designed for stability and handling with consistent high grip
Battlax S21 is the first tyre to benefit from Bridgestone's new "ULTIMATEYE" indoor testing facility which analyses tyre behaviour at the point of contact
 

MS・BELT

 
Mono Spiral Belt
Lightweight and durable cords are wrapped around the circumference of the tire to provide a smooth grip feeling. This contributes to a high performance tire with ①weight reduction, improvement in ②grip improvement, ③rotational stability, ④high speed performance and ⑤excellent damping effect.
 

HTSPC

 
High Tensile Super Penetrated Cord
Steel cord material is comprised of individually rubber insulated inner filaments with high thermal conductivity to enhance heat transfer and reduce the risk of blowout. Moisture does not accumulate between filaments, reducing the chance of oxidation. The features promote high speed stability and durability of the tyre as a whole. High case rigidity (grip performance) and superior shock absorption have also been achieved by these highly tensile filaments which have strong resistance to deformation.
 
3 Layer Compound
3LC (3 Layer Compound) technology.
The shoulder compound provides excellent cornering grip. The centre compound offers linear handling.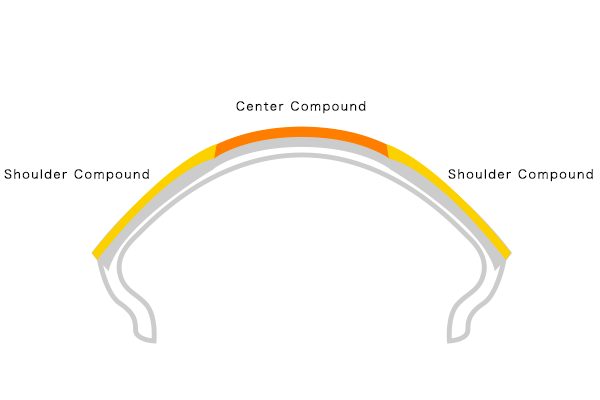 5 Layer Compound
5LC (5 Layer Compound) technology.
High grip performance has been achieved for every sports racing scene. The edge compound improves rotational stability during steep banking. The shoulder compound improves cornering power and grip performance in the forward direction. The centre compound achieves a smooth feeling from straight runs to lean angles.
The compound with the highest "tensile rigidity in the circumferential direction" is used in the shoulder area, enabling rapid acceleration at a corner exit.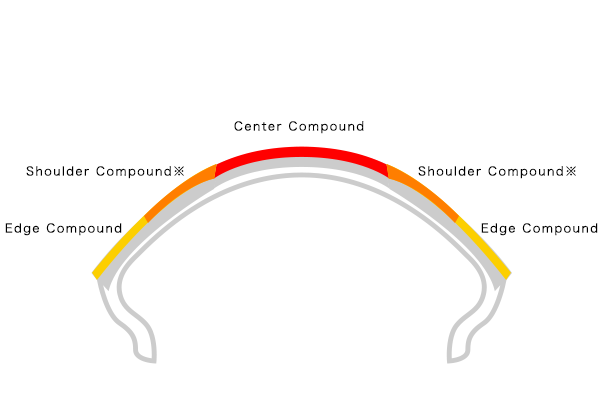 ULTIMAT EYE™
Bridgestone's proprietary tyre development technology for measuring and visualizing tire contact surface behavior during actual riding conditions. Previously, tyre development consisted of running simulations, building prototypes and using laboratory measurements as well as actual vehicle tests to verify performance. ULTIMAT EYE™ reproduces high-speed riding conditions in the laboratory that are equivalent to those of an actual vehicle, enabling tyre contact surface behavior to be visualized. In addition to the previous actual vehicle tests, this allows high-precision analysis and performance verification with a solid scientific basis. Using technology born to develop tyres for the world's most demanding car and motorcycle races, the measurement and analysis equipment can handle speeds of up to 400km/h and lean angles of up to 60 degrees.
---
We Also Recommend
---