BRIDGESTONE T31 COMBO DEAL 120/70ZR17 + 190/50ZR17
120/70ZR17 (58W) + 190/50ZR17 (73W) COMBO DEAL
Where Safety and Performance Meet
The Bridgestone BATTLAX SPORT TOURING T31 is the flagship model for the sport touring category.
The T31 maintains the stability and wear life performance of its predecessor, the BATTLAX SPORT TOURING T30EVO, while also offering improved wet performance and riding comfort.
In addition to boosting stability and handling performance, Bridgestone has developed a new front tyre compound for the T31 with higher rubber flexibility.
This enhances the bite "feel" in the wet, giving riders more confidence in tricky conditions.
Providing higher camber thrust due to a bigger contact patch in all lean angles is brings the fun factor on Sport Touring bikes to a new level as dry handling is improved as well next to the bigger steps in the wet conditions.
The T31 decreases braking distances on wet roads and delivers higher cornering grip to contribute safety trip in unpredictable weather.
The T31 tyre's tread pattern features increased groove ratios on the shoulder of the tyre to allow for better water displacement and improved wet performance. The middle of the tyre has a reduced groove ratio to contribute to increased block rigidity for shorter braking distance under wet conditions.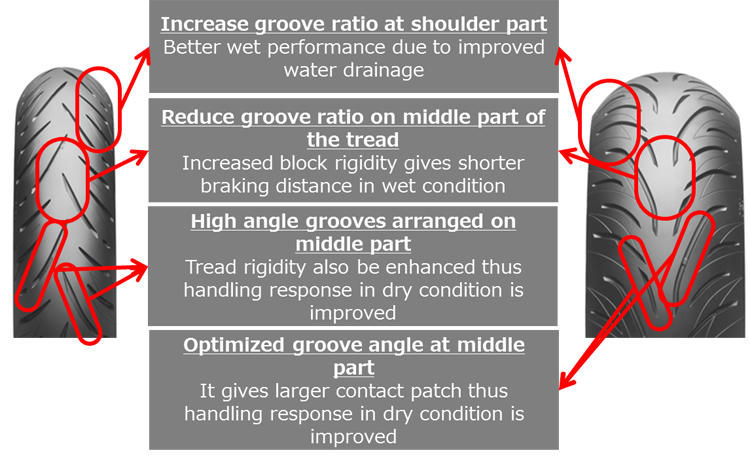 The T31 tyre features a new tread compound that offers improved Silica dispersion at the molecular level, giving the tyre increased rubber flexibility.
These innovations allow the T31 tyre to better grip roads when weight is applied while also making it easier for the rubber molecules to move, generating energy loss that further increases grip.
Bridgestone also took steps to improve grip under low temperature conditions, allowing the tyres to achieve strong grip on wet surfaces.

Bridgestone has employed 3LC (dual tread compound) and CAP&BASE construction on the rear tyre, this gives the tyre increased rigidity in the tread shoulder helping the T31 tyre to maintain excellent cornering stability.

Bridgestone also has utilized its ULTIMAT EYE™ measurement technology to visualize the dynamic movement of tyres when riding.
Based on these measurements, Bridgestone has increased the adhesive area in the forward contact patch in comparison to the T30EVO tyre and reduced the slippage area in the rearward contact patch.
These changes contribute to improved wet cornering grip and increased dry handling response.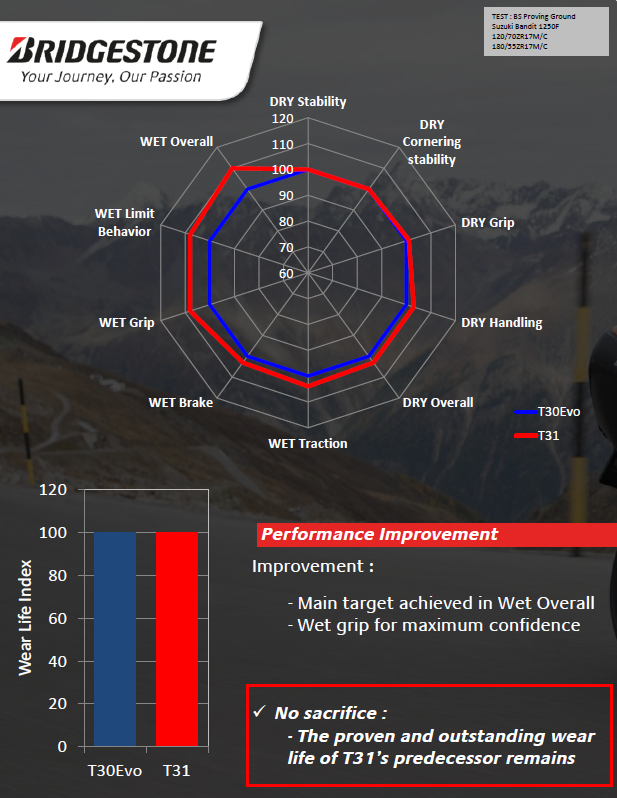 Technical aims
Upgrade the wet grip/handling performance overall with a focus in low temperatures
High feedback and contact feel of the road surface trough the tyre
Enhance the neutrality and lightness in handling performance
Increase the camber thrust forces
No sacrifice on wear life
Methodology
Pattern design – linked to water drainage and block deformation
Compounding and construction (3LC + Cap and Base) – linked to feel and grip + Stability
Upgrading contact patch and adhesion/slip area.
Front Pattern
Main focus on the water drainage with balance between deformation and rigidity :
Increased SEA/LAND ratio at shoulder area
Small decreased SEA/LAND ratio at centre area
High angle groove position at centre area
Rear Pattern

Main focus on the water drainage with keeping high speed stability in mind :
Increased SEA/LAND ratio at shoulder area
Reduced SEA/LAND ratio at centre part
Adjusted groove angle generating maximum camber thrust 
Benefits
Improved water drainage Better WET GRIP
Block rigidity = Reduced Brake distance
Larger contact patch = Higher camber thrust
Technical elements
3LC compound with Cap and base structure on the Rear tyre : Balance between Grip and cornering stability
New front compound with new molecular approach : Improved silica dispersion = Flexibility of the rubber increased for better contact feel of the surface
Contact patch increase (up to 7%) from 0° to full lean angle : Generating higher camber trust (force to make the bike turn)
Ultimate EYE Data shows the bigger adhesion area and smaller slippage area : Wet cornering grip improved Improved dry handling response
---
We Also Recommend
---